CANNABIS TRENDING TO #1 - INFLAMMATION & AUTOIMMUNE DISEASE
Why suffer when there are Cannabis Based Medicines
" According to the National Institute of Pain, Cannabis has 20 x the antiinflammitory power of Asprin."
A doctor hesitated in prescribing CBD to a patient with an autoimmune disorder, that same patient was taking a gigantic cocktail of pharmaceuticals, including pregnenolone. The Doc said, CBD works, but we don't know enough about it. After picking our jaw up off the floor, to tame the ignorance, we set about writing of this article, which references about one hundred research reports - relating to solely to cannabis and inflammation - from renowned institutes from across the planet.
CANNABINOIDS - THE BEST SOLUTION TO INFLAMMATION - RIGHT NOW?
Cannabinoids modulate the two types of receptors found in immune system cells that control inflammation

Cannabinoids can increase programmed cell death in immune T cells

Studies show that THC, THCV, CBD attenuate (dial down) both receptors that control immune response

Cannabinoids have a very lower level of toxicity

THC and CBD are better tolerated than steroids and other pharmaceuticals, by a very wide margin

A google, medical literature search reveals no cases of malpractice involving THC, CBD or other cannabinoids

Several cannabinoids show anti-bacterial, antiviral, and antimicrobial properties

Cannabinoids interacts can contradict or complement other medicines
BOTOX & CANNABIS CREAM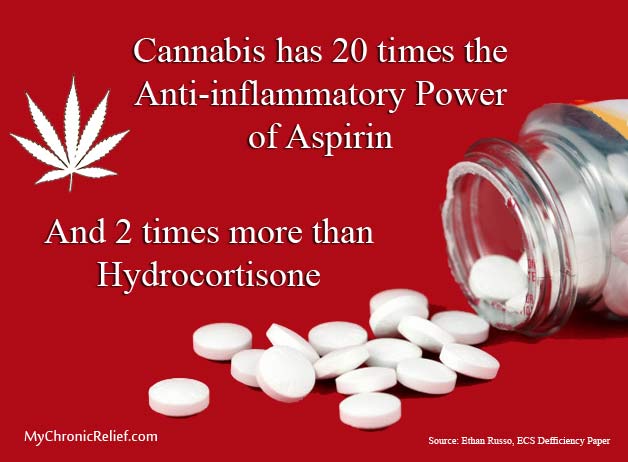 WILL CANNABINOIDS BECOME THE NUMBER ONE ANTI-INFLAMMATORY DRUG?
Cannabinoids are defined medically as a substance that attenuates or moderates the body's cannabinoid receptors. There are two main cannabinoid receptors that have been studied thus far. The CB1 receptor is greatly affected by psychoactive d9THC, the main ingredient of most types of American marijuana.
In fact, the discovery of THC itself led to the discovery of the cellular receptor system, hence the name. The CB1 receptor is predominant in the brain and nervous system while the CB2 receptor is found predominantly in the cells that comprise the immune system. The cannabinoid CBD interacts powerfully with the CB2 receptor with only a minor effect on the CB1 receptor. Later it was discovered that both CB1 and CB2 receptors have reside in immune cells, which explains why so many cannabinoids affect and modulates the immune response.
"Most research focuses on the generall efficacy of Cannabis, THC and CBD. It is virtually certain that an individualized custom mix of with other cannabinoids and terpenes in varying ratios stands to greatly amplify the therapeutic effect in inflammation and other conditions. This concept is very exciting to both sufferers and researchers of auto-immune diseases alike."
Recently, research studies have demonstrated that suggests THC and other cannabinoids play an important role in the regulation of the immune system. Recent studies demonstrated that the administration of THC in mice triggered apoptosis - cell death in rogue immune T cells and dendritic cells, which resulted in immunosuppression. Interestingly, the same cannabinoids that suppress immune response also exhibit antimicrobial properties simultaneously.
TOP 100 MARIJUANA SITES & BLOGS
"Cannabinoid receptor trafficking in immune cells is dynamically regulated by a binary biochemical switch and ingredients in marijuana such as THC and CBD." - Biochemical Pharmacology
In addition, cannabinoids were shown to downregulate infection-signaling chemical production; of both cytokine and chemokine. The role of the body's own endocannabinoid system is also involved in immunoregulation and erratic delivery or overproduction of the body's endocannabinoids is thought to lie at the core of errant immune response / disease.
The administration of endocannabinoids of enzymes that break down the endocannabinoids, was shown to lead to immunosuppression and recovery from immune-mediated injury. Manipulation of the endocannabinoid system (agonist and antagonist) using cannabinoids may offer better and safer treatment of inflammatory disorders, due to their especially low toxicity in mammals.
420EVALUATIONSONLINE: Patients in California and Nevada still require a medical doctor's recommendation to buy either Recreational or Medical Marijuana in California. until at least 2018. Thanks to the Medical Board of California, 420 Evaluations, Cannabis ID Cards and Grower's permits can be approved over the internet using our Telemedicine compliant process. Our medical cannabis documents are accepted by clinics, conpassion clubs, cannabis dispensaries, marijuana delivery services and law enforcement in both California and Nevada. The process is same day, completed 100% online, and takes only ten minutes to complete. Patients don't have to pay until they're approved to legally buy, possess, transport and use MMJ. Get Started here.
FURTHER READING - A LOT OF RESEARCH ABOUT WHAT IT DOES
Inflammation & Medical Marijuana An introduction to Cannabis and Inflammation
A wealth of Testimonials and Research Articles that attest to the Benefits of Cannabis in treating Many Kinds of Inflammation.
Cannabinoids as novel anti-inflammatory drugs
Cannabidiol as an emergent therapeutic strategy for lessening the impact of inflammation on oxidative stress
The endocannabinoid system: an emerging key player in inflammation
Anti-inflammatory role of cannabidiol and O-1602 in cerulein-induced acute pancreatitis in mice
Cannabinoids, endocannabinoids, and related analogs in inflammation
Cannabidiol, a non-psychotropic plant-derived cannabinoid, decreases inflammation in a murine model of acute lung injury: role for the adenosine A(2A) receptor
Cannabinoids suppress inflammatory and neuropathic pain by targeting α3 glycine receptors
Cannabidiol reduces intestinal inflammation through the control of neuroimmune axis
Diabetic retinopathy: Role of inflammation and potential therapies for anti-inflammation
Cannabidiol reduces Aβ-induced neuroinflammation and promotes hippocampal neurogenesis through PPARγ involvement
Cannabidiol attenuates high glucose-induced endothelial cell inflammatory response and barrier disruption
THE TREATMENT OF CHOICE FOR CROHN'S - MEDICAL MARIJUANA
Vanilloid TRPV1 receptor mediates the antihyperalgesic effect of the non psychoactive cannabinoid, cannabidiol, in a rat model of acute inflammation
Cannabidiol attenuates cisplatin-induced nephrotoxicity by decreasing oxidative/nitrosative stress, inflammation, and cell death
Cannabinoids in clinical practice
Pure THC-V inhibits nitrite production in murine peritoneal macrophages
Cannabinoids, inflammation, and fibrosis
Inflammation - Project CBD
Inflammation – Medical Marijuana Research Overview
Why Cannabis Stems Inflammation
Hemp Oil For Inflammation – Studies Show Benefits of Cannabinoids ETH Zurich/Swiss Federal Institute of Technology
Cannabinoids, inflammation, and fibrosis Robert B. Zurier1 and Sumner H. Burstein
Department of Medicine University of Massachusetts Medical School, Worcester, Massachusetts; and Department of Biochemistry and Molecular Pharmacology, University of Massachusetts Medical School, Worcester, Massachusetts USA

Target regulation of PI3K/Akt/mTOR pathway by cannabidiol in treatment of experimental multiple sclerosis. Fitoterapia116, 77-84. Sabrina Giacoppo, Federica Pollastro, Gianpaolo Grassi, Placido Bramanti, Emanuela Mazzon. (2017)
Pathways and gene networks mediating the regulatory effects of cannabidiol, a nonpsychoactive cannabinoid, in autoimmune T cells. Journal of Neuroinflammation 13:1. Ewa Kozela, Ana Juknat, Fuying Gao, Nathali Kaushansky, Giovanni Coppola, Zvi Vogel. (2016)
Therapy implications of the role of interleukin-2 in cancer. Expert Review of Clinical Immunology, 1-8. Paolo Lissoni. (2016)
Therapeutic Effects of Phytochemicals and Medicinal Herbs on Chemotherapy-Induced Peripheral Neuropathy. Molecules 21:10, 1252. Gihyun Lee, Sun Kim. (2016)
Docosahexaenoic acid attenuates in endocannabinoid synthesis in RAW 264.7 macrophages activated with benzo(a)pyrene and lipopolysaccharide. Toxicology Letters258, 93-100. Joanna Gdula-Argasi?ska, Beata Bystrowska. (2016)
Host factors associated with serologic inflammatory markers assessed using multiplex assays. Cytokine 85, 71-79. Heather S. McKay, Jay H. Bream, Joseph B. Margolick, Otoniel Martínez-Maza, John P. Phair, Charles R. Rinaldo, Alison G. Abraham, Lisa P. Jacobson. (2016)
Challenges to develop novel anti-inflammatory and analgesic drugs. Wiley Interdisciplinary Reviews: Nanomedicine and Nanobiotechnology. Bálint Botz, Kata Bölcskei, Zsuzsanna Helyes. (2016)
Anti-Inflammatory and Osteoprotective Effects of Cannabinoid-2 Receptor Agonist HU-308 in a Rat Model of Lipopolysaccharide-Induced Periodontitis. Journal of Periodontology 87:6, 725-734. Cesar A. Ossola, Pablo N. Surkin, Claudia E. Mohn, Juan C. Elverdin, Javier Fernández-Solari. (2016)
Hydroxytyrosol Inhibits Cannabinoid CB1 Receptor Gene Expression in 3T3-L1 Preadipocyte Cell Line. Journal of Cellular Physiology231:2, 483-489. Valeria Tutino, Antonella Orlando, Francesco Russo, Maria Notarnicola. (2016)
Marijuana Legalization: Impact on Physicians and Public Health. Annual Review of Medicine 67:1, 453-466. Samuel T. Wilkinson, Stephanie Yarnell, Rajiv Radhakrishnan, Samuel A. Ball, Deepak Cyril D'Souza. (2016)
HU-446 and HU-465, Derivatives of the Non-psychoactive Cannabinoid Cannabidiol, Decrease the Activation of Encephalitogenic T Cells. Chemical Biology & Drug Design 87:1, 143-153. Ewa Kozela, Christeene Haj, Lumir Hanuš, Mukesh Chourasia, Avital Shurki, Ana Juknat, Nathali Kaushansky, Raphael Mechoulam, Zvi Vogel. (2016)
For whom the endocannabinoid tolls: Modulation of innate immune function and implications for psychiatric disorders. Progress in Neuro-Psychopharmacology and Biological Psychiatry 64, 167-180. Rebecca J. Henry, Daniel M. Kerr, David P. Finn, Michelle Roche. (2016)
Asthma Associated with the Use of Cocaine, Heroin, and Marijuana: A Review of the Evidence. Journal of Asthma, 00. Timothy H. Self, Samarth Shah, Katherine L. March, Christopher W. Sands. (2016)
Downstream effects of endocannabinoid on blood cells: implications for health and disease. Cellular and Molecular Life Sciences 72:17, 3235-3252. Valeria Gasperi, Daniela Evangelista, Isabella Savini, Domenico Del Principe, Luciana Avigliano, Mauro Maccarrone, Maria Valeria Catani. (2015)
Primary Macrophage Chemotaxis Induced by Cannabinoid Receptor 2 Agonists Occurs Independently of the CB2 Receptor. Scientific Reports 5, 10682. Lewis Taylor, Ivy Christou, Theodore S. Kapellos, Alice Buchan, Maximillian H. Brodermann, Matteo Gianella-Borradori, Angela Russell, Asif J. Iqbal, David R. Greaves. (2015)
Psychiatric Symptoms, Salivary Cortisol and Cytokine Levels in Young Marijuana Users. Journal of Neuroimmune Pharmacology 10:2, 380-390. Christine C. Cloak, Daniel Alicata, Thomas M. Ernst, Linda Chang. (2015)
Exposure to Δ9-Tetrahydrocannabinol Impairs the Differentiation of Human Monocyte-derived Dendritic Cells and their Capacity for T cell Activation. Journal of Neuroimmune Pharmacology 10:2, 333-343. Michael D. Roth, Julie T. Castaneda, Sylvia M. Kiertscher. (2015)
Epigenetic Regulation of Immunological Alterations Following Prenatal Exposure to Marijuana Cannabinoids and its Long Term Consequences in Offspring. Journal of Neuroimmune Pharmacology 10:2, 245-254. Elizabeth E. Zumbrun, Jessica M. Sido, Prakash S. Nagarkatti, Mitzi Nagarkatti. (2015)
Elevated Levels of Endocannabinoids in Chronic Hepatitis C May Modulate Cellular Immune Response and Hepatic Stellate Cell Activation. International Journal of Molecular Sciences 16:4, 7057-7076. Eleonora Patsenker, Philip Sachse, Andrea Chicca, María Gachet, Vreni Schneider, Johan Mattsson, Christian Lanz, Mathias Worni, Andrea de Gottardi, Mariam Semmo, Jochen Hampe, Clemens Schafmayer, Rudolf Brenneisen, Jürg Gertsch, Felix Stickel, Nasser Semmo. (2015)
RHEUMATOID ARTHRITIS - 12 MARIJUANA RESEARCH PAPERS
Δ 9 Tetrahydrocannabinol attenuates Staphylococcal enterotoxin B-induced inflammatory lung injury and prevents mortality in mice by modulation of miR-17-92 cluster and induction of T-regulatory cells. British Journal of Pharmacology 172:7, 1792-1806. R Rao, P S Nagarkatti, M Nagarkatti. (2015)
Central administration of GPR55 receptor agonist and antagonist modulates anxiety-related behaviors in rats. Fundamental & Clinical Pharmacology 29:2, 185-190. Abbasali Rahimi, Akbar Hajizadeh Moghaddam, Ali Roohbakhsh. (2015)
Cannabinoid CB2 receptor stimulation attenuates brain edema and neurological deficits in a germinal matrix hemorrhage rat model. Brain Research 1602, 127-135. Yihao Tao, Jun Tang, Qianwei Chen, Jing Guo, Lin Li, Liming Yang, Hua Feng, Gang Zhu, Zhi Chen. (2015)
Cannabidiol, a non-psychoactive cannabinoid, leads to EGR2-dependent anergy in activated encephalitogenic T cells. Journal of Neuroinflammation 12:1, 52. Ewa Kozela, Ana Juknat, Nathali Kaushansky, Avraham Ben-Nun, Giovanni Coppola, Zvi Vogel. (2015)
New Insights into Antimetastatic and Antiangiogenic Effects of Cannabinoids. International Review of Cell and Molecular Biology, 43-116. Robert Ramer, Burkhard Hinz. 2015.
FAAH-mediated modulation of TLR3-induced neuroinflammation in the rat hippocampus. Journal of Neuroimmunology 276:1-2, 126-134. Rebecca J. Henry, Daniel M. Kerr, David P. Finn, Michelle Roche. (2014)
Cannabinoids increase lung cancer cell lysis by lymphokine-activated killer cells via upregulation of ICAM-1. Biochemical Pharmacology92:2, 312-325. Maria Haustein, Robert Ramer, Michael Linnebacher, Katrin Manda, Burkhard Hinz. (2014)
Cannabinoid type 2 receptor stimulation attenuates brain edema by reducing cerebral leukocyte infiltration following subarachnoid hemorrhage in rats. Journal of the Neurological Sciences 342:1-2, 101-106. Mutsumi Fujii, Prativa Sherchan, Paul R. Krafft, William B. Rolland, Yoshiteru Soejima, John H. Zhang. (2014)
Adverse Health Effects of Marijuana Use. New England Journal of Medicine 370:23, 2219-2227. Nora D. Volkow, Ruben D. Baler, Wilson M. Compton, Susan R.B. Weiss. (2014)
Simultaneous ultra-high performance liquid chromathograpy-electrospray ionization-quadrupole-time of flight mass spectrometry quantification of endogenous anandamide and related N-acylethanolamides in bio-matrices. Journal of Chromatography B 958, 83-89. Roberta Ottria, Alessandro Ravelli, Fausto Gigli, Pierangela Ciuffreda. (2014)
Vitreous biomarkers in diabetic retinopathy: A systematic review and meta-analysis. Journal of Diabetes and its Complications 28:3, 419-425. Annie K. McAuley, Paul G. Sanfilippo, Alex W. Hewitt, Helena Liang, Ecosse Lamoureux, Jie Jin Wang, Paul P. Connell. (2014)
Curcumin modulates cannabinoid receptors in liver fibrosis in vivo and inhibits extracellular matrix expression in hepatic stellate cells by suppressing cannabinoid receptor type-1 in vitro. European Journal of Pharmacology 721:1-3, 133-140. Zili Zhang, Yao Guo, She Zhang, Yan Zhang, Yuqing Wang, Wenxia Ni, Desong Kong, Wenjing Chen, Shizhong Zheng. (2013)
Cannabinoids Decrease the Th17 Inflammatory Autoimmune Phenotype. Journal of Neuroimmune Pharmacology8:5, 1265-1276. Ewa Kozela, Ana Juknat, Nathali Kaushansky, Neta Rimmerman, Avraham Ben-Nun, Zvi Vogel. (2013)
Cannabinoid Receptor Type 2, but not Type 1, is Up-Regulated in Peripheral Blood Mononuclear Cells of Children Affected by Autistic Disorders. Journal of Autism and Developmental Disorders 43:11, 2686-2695. Dario Siniscalco, Anna Sapone, Catia Giordano, Alessandra Cirillo, Laura de Magistris, Francesco Rossi, Alessio Fasano, James Jeffrey Bradstreet, Sabatino Maione, Nicola Antonucci. (2013)
Immunosuppressive and anti-inflammatory effects of N-acyl dopamines on Con A-stimulated splenocytes of BALB/c mouse. European Journal of Lipid Science and Technology 115:11, 1284-1293. Mei Chen Jin, Xi-Wen Liu, Mee Ree Kim, Dai-Eun Sok. (2013)
Anti-inflammatory activity of topical THC in DNFB-mediated mouse allergic contact dermatitis independent of CB1 and CB2 receptors. Allergy 68:8, 994-1000. E. Gaffal, M. Cron, N. Glodde, T. Tüting. (2013)
The monoacylglycerol lipase inhibitor JZL184 attenuates LPS-induced increases in cytokine expression in the rat frontal cortex and plasma: differential mechanisms of action. British Journal of Pharmacology 169:4, 808-819. DM Kerr, B Harhen, BN Okine, LJ Egan, DP Finn, M Roche. (2013)
The role of CB1 in immune modulation by cannabinoids. Pharmacology & Therapeutics 137:3, 365-374. Barbara L.F. Kaplan. (2013)
Interleukin-17 in post-stroke neurodegeneration. Neuroscience & Biobehavioral Reviews 37:3, 436-447. Walter Swardfager, Daniel A. Winer, Nathan Herrmann, Shawn Winer, Krista L. Lanctôt. (2013)
The role of endocannabinoids in pain modulation. Fundamental & Clinical Pharmacology 27:1, 64-80. Panagiotis Zogopoulos, Ioanna Vasileiou, Efstratios Patsouris, Stamatios E. Theocharis. (2013)
Cannabinoid receptor 1 suppresses transient receptor potential vanilloid 1-induced inflammatory responses to corneal injury. Cellular Signalling 25:2, 501-511. Y. Yang, H. Yang, Z. Wang, K. Varadaraj, S.S. Kumari, S. Mergler, Y. Okada, S. Saika, P.J. Kingsley, L.J. Marnett, P.S. Reinach. (2013)
RNAi screen in apoptotic cancer cell-stimulated human macrophages reveals co-regulation of IL-6/IL-10 expression. Immunobiology 218:1, 40-51. Stephanie Ley, Andreas Weigert, Jean-Karim Hériché, Blandine Mille-Baker, Richard A.J. Janssen, Bernhard Brüne. (2013)
The molecular connections between the cannabinoid system and endometriosis. Molecular Human Reproduction 18:12, 563-571. A. M. Sanchez, P. Vigano, A. Mugione, P. Panina-Bordignon, M. Candiani. (2012)
Endocannabinoids alleviate proinflammatory conditions by modulating innate immune response in muller glia during inflammation. Glia 60:11, 1629-1645. Gopinath Krishnan, Nivedita Chatterjee. (2012)
THE RISKS FROM SECOND HAND MARIJUANA SMOKE
Long-term treatment with methanandamide attenuates LPS-induced periodontitis in rats. Inflammation Research 61:9, 941-948. Cesar A. Ossola, Pablo N. Surkin, Antonela Pugnaloni, Claudia E. Mohn, Juan C. Elverdin, Javier Fernandez-Solari. (2012)
Indole-2-carboxamides as Allosteric Modulators of the Cannabinoid CB 1 Receptor. Journal of Medicinal Chemistry 55:11, 5627-5631. Francesco Piscitelli, Alessia Ligresti, Giuseppe La Regina, Antonio Coluccia, Ludovica Morera, Marco Allarà, Ettore Novellino, Vincenzo Di Marzo, Romano Silvestri. (2012)
"Redundancy" of Endocannabinoid Inactivation: New Challenges and Opportunities for Pain Control. ACS Chemical Neuroscience 3:5, 356-363. Fabiana Piscitelli, Vincenzo Di Marzo. (2012)
Jonas Kleyer, Simon Nicolussi, Peter Taylor, Deborah Simonelli, Evelyne Furger, Pascale Anderle, Jürg Gertsch. (2012) Cannabinoid receptor trafficking in peripheral cells is dynamically regulated by a binary biochemical switch. Biochemical Pharmacology 83:10, 1393-1412.
Effect of the Cannabinoid Receptor-1 antagonist SR141716A on human adipocyte inflammatory profile and differentiation. Journal of Inflammation 8:1, 33. Ravi Murumalla, Karima Bencharif, Lydie Gence, Amritendu Bhattacharya, Frank Tallet, Marie-Paule Gonthier, Stefania Petrosino, Vincenzo di Marzo, Maya Cesari, Laurence Hoareau, Régis Roche. (2011)
Cannabinoids: novel therapies for arthritis? Sara L Dunn, J Mark Wilkinson, Aileen Crawford, Christine L Le Maitre, Rowena AD Bunning Future Medicinal Chemistry, Vol. 4, No. 6, Pages 713-725.
12/13/2016
Labels: INFLAMMATION AUTOIMMUNE RESEARCH