FONTANA - MARIJUANA IN THE CITY
In this article we talk about some interesting facts about the city with a focus on the main issue, Marijuana.
We address the important and frequently asked questions about MMJ:
Where can I buy good legal weed in town?
How can I become a legal Medical Marijuana patient?
Where can I find a Cannabis collective in town?
How can I get a 420 Medical Marijuana Doctor evaluation?
Is there a nearby place I can get a Cannabis ID card?
Can I get Marijuana delivered to my home?
Where is a nearby dispensary with lab tested Marijuana?
Can I grow weed at home?
What are the latest laws concerning permits and ordinances?
How can I get a Doctor's recommendation and growers permit?
Where can I find a good Medical Marijuana lawyer in the city?
About Fontana
With a population of more than 200,000 residents, Fontana is the second biggest city in San Bernardino county. Before World War II, Fontana was a small little rural town. That all changed when an industrialist brought a large steel mill to town. Soon other business came to town. Now, strategically located Fontana has become a regional transportation hub, catering to the massive trucking industry. Fontana is also home to the largest managed care organization in the US.
Fontana was founded in 1913 as a central point to service the Citrus farms, Wineries and Chicken ranches in the area. The descendants of these farmers sure did love their cars. Fontana became a kind mini-mecca for drag racing, muscle cars and auto shows.
.
| | |
| --- | --- |
| | Fontana Medical Cannabis Law & Legal Issues |
Allen Bartleman
(909) 885-8388
Specializing in Medical cannabis practice, collectives, family law/child custody
293 North D St. Suite 202M San Bernardino CA 92408
Lawrence Bynum
(951) 682-2345
Specializing in Business formation & operation; zoning & permits
6700 Indiana Ave., Suite 240 Riverside CA 92506
Police report on Spice, a Synthetic form of Marijuana - 2013
What's Spice? There are several psychoactive artificial cannabinoid families sold under brand names Spice Now the Word Spice is used as a generic for any synthetic cannabinoid product.
Fontana Police Confuse Marijuana and Alcohol in DUI action March, 2016
"The Fontana Police Department will be deploying roving DUI patrols this St. Patrick's
Day looking to stop and arrest drivers who are impaired by alcohol or drugs."
Evidence that making Pot Illegal invites Organized Crime into your Neighborhood - 2013
"Residential Marijuana Grow Houses Lt. Megenney explained that there have been ...Marijuana grow houses located in the City and are evidence that the cartels are here."
MMJ & Fontana City Hall - One Step forward, Two Steps Back - 2015
"Notice is hereby given that the planning commission of the city of Fontana will hold a public hearing on an amendment of to Fontana municipal code selection 30.7, administration, medical marijuana uses prohibited.
Ontario Passes Butane Ordinance Regulating Quantities Sold - Inland Valley May 21, 2016
Butane is used to extract THC from marijuana. You can take "bad weed" and turn it into a concentrate that's perhaps cleaner and more powerful. It is illegal to make marijuana concentrate using butane. Butane poses a significant safety hazard, once it sparks, it burns like a bonfire and can even cause a major explosion."
"The ordinance is in response to a drug trend in the Inland Empire which involves purchasing high volumes of butane at smoke shops, camping stores, hardware stores, and even grocery stores to produce high volumes of cannabis butane honey oil, also known as hash oil, say officials at Upland-based nonprofit Reach Out."
| | |
| --- | --- |
| | You can email Police Chief, Rodney Jones [email protected] about your MMJ issues. Maybe he'll get back to you? |
Fontana Marijuana News

Fontana officers bust large scale Marijuana Ring Mar 18, 2016
On March 16, 2016, police served narcotics search warrants at four locations in Riverside County. The warrants were based on an investigation that stemmed from a large marijuana seizure last October in Fontana. The four locations were believed to be illegally involved in large scale marijuana cultivation and distribution.
Over 5000 Marijuana Plants Found in Inland Empire Mar 18, 2016
The Fontana Police Department Narcotics Unit served search warrants Wednesday in Menifee, Hemet, and Aguanga, and arrested six people suspected of being involved in marijuana cultivation, according to a news release from the Fontana Police Department.
Ice Cube, Major Lazer headliners for HARD Summer in Fontana May 10, 2016
"The event is for ages 18 and older. While a California state medical marijuana recommendation or card is not needed to attend, one is needed to enter the on-site medicating area."
Man arrested for allegedly possessing drugs and handgun loaded 9mm handgun and multiple baggies of packaged marijuana. May 9, 2016
Brutal reporting? A guy with shotgun, is drinking and has bag of weed. Then the reporter lumps the evils of alcoholism, idiots, violence, guns and weed together as a conglomerate of sins.. Despicable.
| | |
| --- | --- |
| | MEDICAL MARIJUANA GOODS AND SERVICES |
Telehealth - Medical Cannabis Doctors Online - Recommendations, Growers Permits, ID
420 EOL 12 month Letter of Grower`s Recommendation from a licensed physician.
24/7 Online verification of your legal status.
Medical Marijuana ID CARD.
420 EOL Grower's Authorization to cultivate up to 99 plants / possess 8 oz. or more of MMJ.
YELP - Marijuana collectives, Cannabis Dispensaries, Pot Peripherals and What Not, in and around Fontana
Weird California - Fontana Giant Orange Stand
At one point there were giant oranges lurking along many of the highways throughout California. These giant oranges operated as juice stands, eagerly awaiting thirsty travelers to pull over and partake of their fresh cold orange juice. At a time when most cars didn't have air conditioning and the highways were not the super fast freeways with on and off ramps of today, the orange stands did a busy and successful business.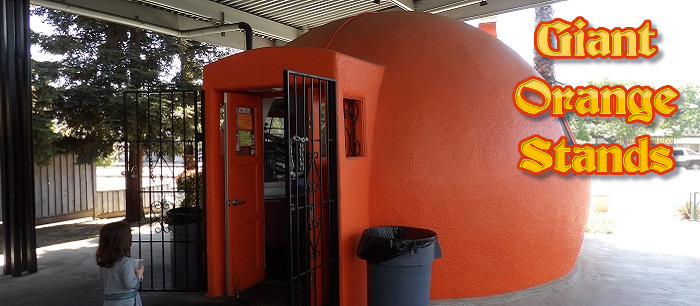 In 1926 Frank E. Pohl started his chain of "Giant Orange" stands opening up his first orange shaped stand on what was 11th Street near E Street in Tracy. Before trying out orange juice stands, Pohl had a giant lemon from which he served lemonade in Menlo Park called Jumbo Lemon Stand. But his first "Giant Orange" was in Tracy, California and spawned a franchise and imitations throughout California. The franchise peaked in the 1950's with approximately 16 different stands built throughout Northern California from Bakersfield to Sacramento to Merced and Redding. It's rumored that a stand could easily go through six thousand oranges during a week as it quenched the thirst of weary travelers who pulled over for a quick drink. Read more at Weird California..